Archived News: 2011: April
April 6, 2011
Georgia Tech Crew Featured on Aberdeen Dad Vail Regatta Website
This year marks the 15th anniversary of the infamous GT Crew trailer crash en route to the 1996 Dad Vail Regatta. Despite a flipped van and mutilated equipment with the help of the Philadelphia rowing community the team went on to one of their most successful Dad Vail showings.
April 10, 2011
FIRA Regatta
This weekend the Georgia Tech crew team took to the road and headed to Sarasota, Florida for the Florida Intercollegiate Rowing Championships where Georgia Tech gets to compete by invitation. This is a great opportunity for the team to race some of the best teams in the south east before the Southestern Intercollegiate Rowing Championships that takes place next weekend.
It was an exciting weekend for the mens and womens squads that both did well. The mens varsity 4+ got 2nd to Jacksonville University by less than 0.01 seconds, which simply comes down to great racing! The womens lightweight varsity 8 got its first opportunity exhibit their potential against the University of Florida lightweights. Rowing at 36 strokes per min the official thought they were rowing too high, but they kept it up for the win. For more on how the team did, please go to the results section of the website.
April 19, 2011
Attention, Row: Southeastern Regional Championships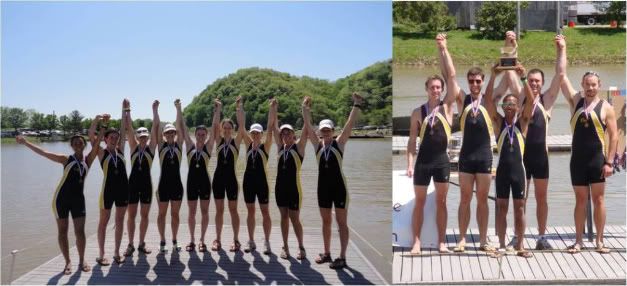 This Sunday the weather was perfect for finals at the SIRA championship regatta in Oakridge, TN. First, the womens light-weight 8 came down the course and won by 10.8 seconds. This boat consisted of seven senior ladies and one junior lady and was coxed by Isabella, the only freshmen in the boat. Next the women took bronze in the Varsity 4+ (club, D2, D3) event. This race was tight to end. Tech edged out College of Charleston by only 0.8 seconds. Finally, the last Georgia Tech boat came down the course, the mens varsity 4+ and they went out with a bang. The 4+ won by 4.0 seconds, beating 23 other boats in the event.