Archived News: 2010: Spring
January 11, 2010
Become a National Champion - No Experience Necessary!
Thinking about joining? Come to any of our Meetings For The Curious. You'll hear from the coaches and have a chance to meet your future teammates. The meetings are a great opportunity to ask questions, learn about the team and see if rowing is the sport for you.
Thursday, Jan. 14, 6:00 PM – Student Center Rm 343
Wednesday, Jan 20, 6:00 PM – Student Center Rm 301
(look for signs for GT Crew)
GT Crew is an intercollegiate, co-ed rowing team that competes across the country against teams like Clemson, Purdue, and UGA. It is the largest sport club at Georgia Tech.
No previous rowing experience necessary!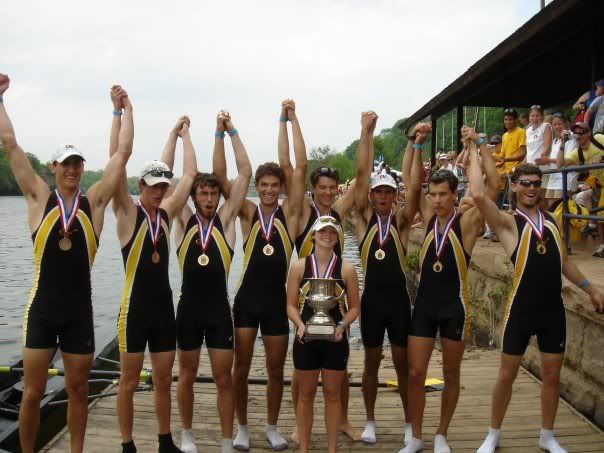 January 23, 2010
Win an Erg Sweepstakes - Enter to Win!
Enter to win a brand new erg from Concept2.
Tickets are $5 each or 5 for $20 and can be purchased at the event with cash or check. Contact assistanttreasurer@gtcrew.com for more information. Proceeds go to support Georgia Tech Crew!
1st place* – brand new Model D erg from Concept2
2nd place** – Concept2 prize package
The drawing will be held at the end of Atlanta Erg Sprints like last year. The winners will be announced at the event, posted on website, and notified via phone or email.
*The first place prize will be shipped directly to the winner from Concept2. **The second place prize will be presented at Atlanta Erg Sprints or shipped by GT Crew.
January 24, 2010
2010 Officer Board Elected
The 2010 officer board was elected tonight. The next week will be a transition period, and the new board will take over on February 1, 2010. Congratulations to the new members and thanks to the dedication and hard work of the returning members!
Top row, left to right:
President – Maya Oren (3rd year), Women's VP – Amanda Swanson (2nd year), Men's VP – Corey Drozdowski (2nd year), Treasurer – Benjamin Loeffler (4th year), Public Relations – Meg Schroeder (3rd year)
Bottom row, left to right:
Assistant Treasurer – Lucas Campbell (1st year), Secretary – Hayden Paschal (2nd year), Fund-raising – Sarah Sassler (3rd year), Boathouse Manager – David Judah (3rd year), Social Promoter – Marina Leynse (2nd year)
Click here to view contact information.
January 30, 2010
Preview of Atlanta Erg Sprints
The varsity women's team had a strong showing this morning at the Lanier Heartburn Indoor Sprints, previewing what's to come at the upcoming Atlanta Erg Sprints next weekend. Between winning the Open category, sweeping the top five places in the Lightweight category, and having the majority of the competing Tech team pull personal best pieces, we all have high hopes for the competition on our home turf.
Check back for the team's results in our Schedule&Results section. Go to Regatta Central for the full results, to be posted soon.
February 1, 2010
Spring 2010 Race Schedule Announced
Mark your calendars! The tentative race schedule for Spring 2010 is here.
2/6 Atlanta Erg Sprints (Atlanta, GA)
GT will fight to regain their point title from last year's winner, Emory Crew.
2/27 A-Town Cup (Roswell, GA)
GT will scrimmage UGA and Emory at home this year.
3/6 SERCS (Aiken, SC)
GT takes on local crews including UGA.
3/13 Scrimmage vs Grand Valley State University (Location TBD)
Now an annual event, GT will scrimmage GV while they are down for Spring Break.
3/27 John Hunter Regatta & San Diego Crew Classic (Gainesville, GA and San Diego, CA)
Immediately following the team's Spring Break training, the MV8+ will head to Cali. while the rest of the team defends its "home water" at the JH Regatta, hosted by GT and St. Andrew RC.
3/28 Lanier Sprints (Gainesville, GA)
Select small boats will compete.
4/10 FIRA (Sarasota, FL)
GT will fight to become the unofficial Florida state champions again.
4/17-18 SIRA (Oak Ridge, TN)
The southeastern championship. GT will fight to prove itself against strong crews like Purdue, Jacksonville, and Delaware.
5/7-8 Dad Vail (Philadelphia, PA)
GT's men will strive to move to 1st place in men's team points after three years in a row as the runner up, and GT's women have their eyes set to earn more DV medals than any other group of GT women thus far.
5/22 ACRA (Oklahoma City, OK)
Select boats will head to this club national championship regatta.
Changes in the schedule may occur. Check our Schedule & Results page for a list of the upcoming race and event locations, and look here for the most recent GT Crew racing news.
February 6, 2010
Spring off to Impressive Start - Atlanta Erg Sprints Recap
The 2010 Atlanta Erg Sprints concluded about three hours ago here at the GT Campus Recreation Center with Georgia Tech taking 1st place in Team Points. Not only did GT do well as a team, there were several impressive performances, gold medals, and personal records on all four squads. Here is a recap of the events GT was entered in:
Novice Women
The novice women had a good showing overall with Betsy McLaughlin taking home a silver medal and five rowers finishing in the top ten.
Novice Men
First year GT rower, Seth Parker, took home the gold and the Gold Hammer award for setting a new record time in the Novice Men's category. Chris Depweg of the GT Novice Men's squad got the silver medal. Five GT rowers finished in the top ten.
Lightweight Women
This was a close race from the start. Amie Martell, last year's fourth place finisher, took 1st place, narrowly edging out Saint Andrew's coach and GT Alum, Katherine Mejias. Carlee Schmidt took the bronze medal. GT dominated this event, taking nine of the top ten spots.
Lightweight Men
In one of the most exciting races of the day, Sean Gibel took the gold medal and set a new personal record of 6:29.9, beating out last year's winner, Will Bringgold of Emory. Five of the top ten finishers were from GT.
Open Women
Last year's bronze medalist, Sam Smelly, represented the women well, securing the Silver medal this year ahead of GT Alum and Emory coach, Joy Smith (4th place).
Open Men
This was probably the most competative race of the day. David Judah and Matt Watters were GT's top two this year, taking 4th and 6th place respectively. Drew mason finished 8th, and Seth Parker also had a respectable finish for his second race of the day.
Coxswain
Novice coxswain, Matthew Gianelli, won the men's race with Kris Batol, V-Women coxswain, taking the bronze. V-Men's cox, Savannah Cookson, got a bronze medal.
Team Relay
GT's Quads of Fury with David Judah (4th Open men), Drew Mason (last years bronze in Open Men), Sam Smelly (Silver in open women), and Carlee Schmidt (Bronze in lightweight women) won the team relay for the second year in a row.
A special thanks goes out to the GTCA for running the event and making it all happen!
Pictures and results still to come. Click here for full results.
*Check out the coverage of Atlanta Erg Sprints and GT Crew in the February 11 edition of The Technique*
February 12, 2010
GT Crew in the Technique
GT Crew hosts Atlanta Erg Sprints to open spring season
"Tech's crew team served as the host for the Atlanta Erg Sprints on Saturday, Feb. 6. The day-long competition has become a prominent event for GT Crew, serving as the kick-off of the spring season for Tech's largest sporting club. This year the Jackets started off the spring on a high note as they took first place in total team points.
The annual competition at the CRC features current rowers from Tech and other Southeastern colleges along with junior teams and GT Crew alumni, who have a large presence at the event.
Overall, Tech took the team points title in a strong performance as the Jackets transition from the endurance-based fall season to the more strength-based spring season.
While Georgia and Emory appear on the spring schedule, Tech's goal remains the same as ever: to reach and perform well at the Dad Vail Regatta, the early May intercollegiate competition in Philadelphia that is the de facto championship event for the Jackets."

(Keun Hwa Yoo/Student Publications)
Click here to read the whole article by Nishant Prasadh, Sports Editor for Georgia Tech's newspaper, the Technique.
March 4, 2010
Recruit Weekends Announced
The 2010 high school recruit weekends have been set for April 23-24, 2010 and September 24-25th, 2010. Rowers and coxswains interested in attending GT are encouraged to come; it is a great opportunity to meet the team and coaches as well as see the campus.
In addition to a tour of campus and info. sessions, each high school student will stay with a collegiate rower for the weekend and experience practice with the team, college classes, dining, social activities and more. Past recruit weekends have included admission to the crew's seating block at a GT football game or a trip to Six Flags over Georgia.
Parents or high school students, please do not hesitate to contact a coach for more information. If one of these dates does not work for you, or it's too soon to decide, you can talk to a coach to set up an individual visit as well. Check out our Join page to sign up or get more information.
We are looking forward to your visit!
March 7, 2010
Success at SERCS, Live Results Broadcast
The team travelled to Aiken, SC this weekend to compete at the 2010 Southeastern Regional Collegiate Sprints (SERCS), hosted by UGA. Other schools at the race included Alabama, Auburn, Clemson, College of Charleston, Georgia State, Tennessee, Vanderbilt, and more. Georgia Tech showed up ready to compete at this first official sprint race of the season, and it showed. After the preliminary rounds, all of GT's boats had either moved on to finals or medalled.
At the end of the day, Tech took home gold in both the Men's and Women's V8 events, Men's V4+, Men's Novice 4+, Men's and Women's Lightweight 4+, Women's pair, and the Men's single.
This was the first time people could keep track of how the team was doing by looking at live results posted on Twitter. The team is going to try to make this a regular occurrence with every race, so start following GTCrew on Twitter. Don't forget to become a fan of our Facebook page and check out updates there as well.
Congratulations to all of the rowers! Detailed results and photos to come soon.
April 11, 2010
Team leaves Sarasota with a few shirts and eleven medals
The team loaded a charter bus at 5am Friday morning to head down to Sarasota, FL for the FIRA Championship Regatta. This regatta serves as the state championship for Florida collegiate rowing programs and Georgia Tech has been invited the last few years to compete as a guest school. Georgia Tech takes this opportunity to compete against some strong programs from the Sunshine State in preparation for SIRA championships, the Dad Vail Regatta, and ACRA.
Overall the team performed well. Eleven boats walked away with medals including six gold medals in the men's and women's novice 4+ B, women's lightweight 8+, men's and women's lightweight 4+, and men's novice 4+ A. These boats also earned betting shirts from their competitors. Check out our results page for more info.
The team travels to Oakridge, TN next weekend for the SIRA championships.