Archived News: 2009: September
September 22, 2009
Torrential Downpours Flood Boathouse, Practices and Events Affected
Recent, heavy rains have caused the water levels in the Chattahoochee to rise reportedly six feet above normal, flooding the surrounding areas, including Georgia Tech and Saint Andrew's boathouse facilities. Nothing appeared to have been damaged as of late Monday morning, but as the situation worsened during the day and night, damaged and lost equipment was suspected.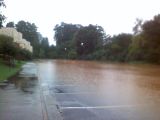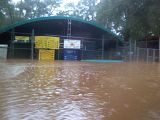 Saint Andrew's Church parking lot filling with water on Monday morning, and the boathouse on Monday evening.
A special thanks goes out to coaches Dan McNair and Curt Browder, and all others who helped move and secure equipment for the two teams.
No decisions have yet been made regarding the visit and tour this Saturday for Parents' Weekend, but check back for updates on a potential relocation.
September 24, 2009
Flood Aftermath: Boathouse Clean-up, Parents' Weekend, and Recruit Weekend - See how YOU CAN HELP!
Although much of the water has subsided, the boathouse was left a mess from the flood, and the river is still not "rowable." The park rangers have declared the river CLOSED, imploring that no one goes in or on the water without facing a maximum risk of 6 months in jail and a $5,000 fine. Due to these unforeseen circumstances, all the team can do for now is clean up its facilities and get on the ergs. GT Crew has been invited to row at Lake Lanier and will be taking trips there on weekends until the Chattahoochee is deemed safe.
Boathouse Clean-up – Saturday 7:30 A.M.
Georgia Tech Crew, alumni, and parents will be heading out to the boathouse behind Saint Andrew's Church in Roswell on Saturday, September 26 (weather pending) to wash, sanitize, and repair as much as we can. Expect clean-up to start at 7:30A.M. and last until 11:00 A.M.
The team could really use your help. If you cannot come in person, you can still help by lending or donating any of the following items: an electric generator, buckets, sponges, assorted disinfectants and cleaning supplies, bug spray, yard tools (shovels, rakes, etc.), wheel barrows, brooms, compressors, etc.
Please contact secretary@gtcrew.com if you can help in any way.
NOTICE: It is strongly advised to wear pants and to have the legs tucked into a boot that covers the ankle. Long sleeves and a hat would also help protect skin from mosquitoes and any contamination. Wear gloves and bug spray as well. Bring a towel and change of dry clothes and a trash bag for your gear that gets dirty. IT IS A MESS!
Parents Weekend – November 21st
We apologize to anyone who is coming from out of town for the GT Family Weekend but hope that you can make it out in November to visit the boathouse!
Recruit Weekend
Recruit weekend will still go on as planned aside from some minor adjustments due to flood damage. The 18 high school students will still get to tour campus, learn about the team, meet current rowers, and enjoy a variety of social events, including the football game against UNC. The students will no longer be heading to Six Flags as the park sustained significant water damage. Instead they will be going to see the GT Women's Volleyball team play N.C. State. Unfortunately due to the mess and potential safety issues, the high school recruits will not get to see the facilities or row with us, but there will be other events for them on Saturday.